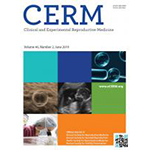 Primordial follicle activation is a process in which individual primordial follicles leave their dormant state and enter a growth phase. While existing hormone stimulation strategies targeted the growing follicles, the remaining dormant primordial follicles were ruled out from clinical use.
Recently, in vitro activation (IVA), which is a method for controlling primordial follicle activation, has provided an innovative technology for primary ovarian insufficiency (POI) patients. IVA was developed based on Hippo signaling and phosphatase and tensin homolog (PTEN)/phosphatidylinositol-3-kinase (PI3K)/protein kinase B (AKT)/forkhead box O3 (FOXO3) signaling modulation.
With this method, dormant primordial follicles are activated to enter growth phase and developed into competent oocytes. IVA has been successfully applied in POI patients who only have a few remaining remnant primordial follicles in the ovary, and healthy pregnancies and deliveries have been reported. IVA may also provide a promising option for fertility preservation in cancer patients and prepubertal girls whose fertility preservation choices are limited to tissue cryopreservation. Here, we review the basic mechanisms, translational studies, and current clinical results for IVA. Limitations and further study requirements that could potentially optimize IVA for future use will also be discussed.
---
Hye Nam Lee, Eun Mi Chang
Clinical and Experimental Reproductive Medicine 2019; 46(2):43−49